OpenText's transformation from a Canadian document management company to one of the world's leading software providers is nothing short of remarkable. The driving force behind its growth has been a focus on cloud-based solutions, which led the company to go on an acquisition spree, bringing several specialized companies/brands under its umbrella. Cybersecurity is one arena where OpenText has taken a deliberate approach over the last decade with multi-billion dollars of capital investment to bring together critical purpose-built solutions to provide holistic coverage to its customers.
The company's acquisition of data protection provider Carbonite (ninth cloud-specific acquisition overall) and endpoint/threat intelligence software provider Webroot marked a significant milestone in its quest to create a single, unified, and robust security portfolio.
With the Carbonite and Webroot acquisitions, OpenText became a go-to option for managed service providers (MSPs) and small and medium businesses (SMBs) seeking a one-stop shop for security and data protection, filling a void in the market with its broad portfolio. Experts have opined on OpenText's offerings: "It's one vendor, one brand, one program, one partner strategy, one go-to-market, so small customers and partners don't need to work with multiple vendors. OpenText Cybersecurity can provide all of it."
However, this was just the beginning. OpenText's subsequent acquisitions of email encryption software provider Zix, security software provider AppRiver, Network Detection and Response provider Bricata, and enterprise software provider Micro Focus further strengthened its position in cybersecurity. The approach to consolidate all security and data protection services in a single platform – serving as the foundation to deploy the right capabilities and manage and administer their environment has made things easier for customers of all sizes. In addition, OpenText's comprehensive portfolio provides a robust and reliable option for businesses seeking to enhance their cyber resiliency. In the following sections, we will explore OpenText's trajectory to becoming one of the leaders in the cybersecurity domain.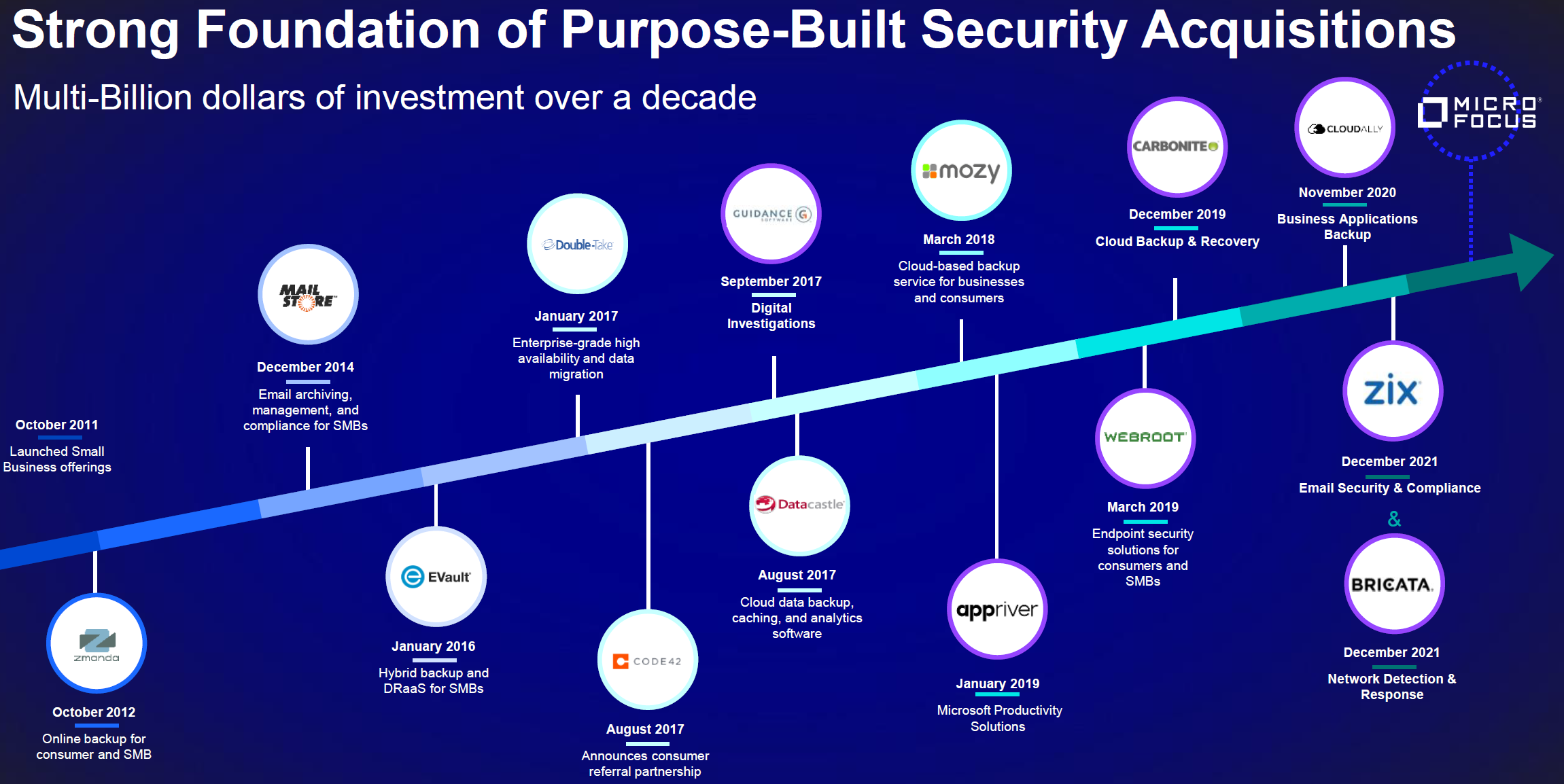 CARBONITE: THE SECURITY-RELATED ACQUISITION WHERE THE ASCENT BEGAN
OpenText's acquisition of Carbonite was a significant move that helped the company expand beyond content management into the cybersecurity market. Its CEO Mark Barrenechea had described the acquisition as the company's most significant decision since purchasing Dell EMC's Enterprise Content division. The acquisition strengthened OpenText's position in cloud platforms, endpoint security, and protection. In addition, it opened a new channel to connect with customers through Carbonite and Webroot's SMB/prosumer channel and products.
Carbonite's previous acquisition of cybersecurity solutions provider Webroot presented an opportunity for OpenText to integrate Carbonite's cloud-based backup and recovery solutions with Webroot's cloud-based cybersecurity solutions. The integration resulted in a unique approach to endpoint data protection. With an existing customer base, OpenText saw an opportunity to expand the channels by offering its own solutions bundled with those customers who already used Carbonite or Webroot. OpenText gained access to BrightCloud's threat intelligence services by acquiring Carbonite and Webroot. Already integrated into Webroot solutions, OpenText further integrated BrightCloud into additional OpenText offerings. This allowed OpenText to expand its reach, provide data protection, and utilize BrightCloud's real-time, contextual threat intelligence to help businesses identify and mitigate cyber threats.
The acquisition enabled OpenText to establish its leadership in the cybersecurity market, enhance its cloud capabilities, and complement its leadership positions in other markets. In addition, Carbonite brought in 300,000 SMB customers, 7 million prosumers, and 16,000 channel partners through the Carbonite and Webroot Partner Programs. These programs offered predictable and recurring revenue to MSPs, resellers, and distributors through cloud-based cybersecurity, threat intelligence, and backup and recovery solutions. Combining Carbonite and Webroot's endpoint protection, data protection, backup, document retention, and threat intelligence solutions alongside OpenText's EnCase digital investigation products resulted in a comprehensive cyber resilience solution for customers.
ZIX: FURTHER STRENGTHENING OPENTEXT'S FOOTPRINT IN THE SMB MARKET
After building a solid foundation in the cybersecurity market, OpenText's next step was to deepen its SMB market footprint further. It represented a tremendous growth opportunity for OpenText while enhancing its cybersecurity offerings.
With 100,000+ customers, most of whom are SMBs, and cloud-based email security solutions designed for SMBs and mid-market organizations, Zix fits OpenText's security and data protection product portfolio well. Besides, OpenText wanted to expand its MSP distribution capabilities and increase its ability to cross-sell and upsell, all of which it could accomplish by acquiring Zix.
Zix's products, such as email encryption and threat protection, are delivered through the Zix Secure Cloud platform and are highly complementary to OpenText's existing security and protection cloud offerings (Carbonite, Webroot, and BrightCloud). This has strengthened OpenText's SMB platform by adding cloud-based email security and compliance solutions to its portfolio. Further, by integrating the solutions with its existing Carbonite and Webroot products, OpenText has created a powerful SMB platform for attack surface & data protection, threat management, email security, and compliance solutions.
The acquisition has brought approximately 5,600 MSPs to OpenText, taking the total partners to around 22K and opening significant cross-selling opportunities. In addition, OpenText's strategic partnership with Microsoft as one of the few cloud service providers with 80K joint customers has allowed OpenText to offer one of the market's most comprehensive cyber resilience offerings for partners and customers of all sizes.
The acquisition of Zix has significantly enhanced OpenText's Small to Medium Businesses & Consumers (SMB&C) portfolio in data protection, threat management, and email security. With the Carbonite and Zix acquisitions, OpenText's SMB and Consumer business has grown substantially with solid profitability over the years.
MICRO FOCUS: EXPANSION BEYOND CYBERSECURITY
The acquisition of Carbonite and Zix allowed OpenText to ensure a strong footprint in the cybersecurity market. By acquiring Micro Focus, OpenText can scale new horizons both from a product and customer segment perspective and position itself as one of the fastest-growing security players in the industry. In addition, the acquisition provided OpenText with access to a broader range of security products, including ArcSight (Security Information and Event Management), Fortify (Application and API Security), NetIQ (Identify Governance and Administration), and Voltage (Data protection, privacy, and governance) products. It has broadened its existing portfolio and is helping deliver solutions for various other cybersecurity use cases.
The acquisition allowed OpenText to expand into other areas beyond cybersecurity as well. Micro Focus has been a long-standing player in the IT operations management monitoring space, with solutions in DevOps, hybrid IT, security and risk management, and predictive analytics. OpenText viewed this acquisition as an expansion of its security portfolio and information management and believes that AI and analytics, security, and application management are critical areas that enterprises need to consider a competitive advantage.
OpenText's strategy is to gather all the pieces on the board and expand the appeal of appropriate components of the Micro Focus portfolio to the customers across all segments (Enterprise, Mid-Market, and SMB). Additionally, it can optimize this strategic opportunity to move Micro Focus customers onto OpenText cloud services.
OpenText's strategic cybersecurity-related acquisitions have helped it broaden its portfolio to build a comprehensive platform solution. This one-stop-shop approach offers customers a simplified and streamlined cybersecurity experience by eliminating the need to engage multiple vendors and solutions. Nonetheless, customers still struggle to choose between comprehensive platform solutions such as OpenText and point solutions, which have unique advantages and disadvantages in market positions.
PLATFORM SOLUTION PROVIDERS VS. POINT-SOLUTION PROVIDERS
The ongoing debate about whether to use a comprehensive platform solution or a plethora of point solutions and products have existed for a while. Point solutions are designed to address specific issues, while platform solutions provide a foundation that can cater to various use cases. Organizations with specific needs that their existing technology infrastructure cannot meet often choose point solutions. However, using point solutions can result in a fragmented technology infrastructure with multiple solutions that may need to integrate better with each other. Considering this issue, a platform solution such as OpenText is always better. Unlike point solution providers that offer a single solution for a specific problem, OpenText provides a comprehensive suite of cybersecurity solutions that addresses multiple areas of concern. Simplifying the security management process, such suites enable organizations to secure their environment with a single vendor.
Moreover, while point solutions might seem more cost-effective in the short term, they may not be the best choice in the long run. Point solutions can lead to a higher total cost of ownership over time due to the complexity of managing multiple vendors and solutions. In addition, there can be a significant overhead to manage, administer and co-relate various solutions to derive actionable insights. By choosing a platform solution such as OpenText, organizations can not only benefit in terms of cost in the long run but also ensure reduced complexity, improved efficiency, and scalability of their technology stack.
Further, even if an organization has a specific need at a given time, its technology needs will likely expand and evolve. Investing in a platform solution offering a wide range of solutions ensures that the organization can scale and fulfill the changing needs through a trusted relationship with a single vendor rather than investing in additional point solutions.
FINAL TECHAISLE TAKE
OpenText's acquisition strategy has transformed it into a leading global cybersecurity powerhouse, offering a comprehensive security and data protection solutions portfolio. With a broad and deep portfolio across the pillars of prevention, detection, and response to recovery, investigation, and compliance, OpenText Cybersecurity enables customers across all segments to build cyber resilience via a holistic security portfolio. In addition, by focusing on cloud-based solutions and executing strategic acquisitions, OpenText has positioned itself as a significant player in the market, especially for managed service providers and small to medium-sized businesses.
The advantages of using OpenText's cybersecurity solutions are significant, providing a streamlined and efficient one-stop-shop and centralized platform for customers of all sizes. In addition, its reliable and comprehensive approach to cybersecurity sets it apart from competitors and enables businesses to enhance their cyber resiliency. OpenText remains committed to investing in cybersecurity and delivering long-term customer value, showing its promising future.