Technology advances daily; how can SMB IT resources and processes keep pace? In March 2023, Dell announced its Dell APEX Managed Device Service subscription to help SMBs and midmarket firms keep devices secure and up-to-date. Dell APEX Managed Device Service is available to buy as a month-to-month subscription at $70 per device for SMBs. Techaisle data shows that 83% of SMBs are prioritizing outsourcing their device, security, and overall IT management. At the same time, 62% are increasing their use of as-a-Service technology adoption. With Dell APEX Managed Device Service, SMBs have peace of mind knowing their IT needs are handled with Dell's industry-leading IT management and support capabilities. From PC management to device security to expert Dell support, all in a flexible monthly subscription, this newest addition to the Dell APEX lineup delivers the immediate value small businesses need to focus on growing their business, not managing IT.
SMBs increasingly depend on information technology and deal with an ever-expanding portfolio of increasingly complex applications and platform technologies. At the same time, these firms are struggling to rein in IT-related expenditures, including staff-related costs. This combination of increased reliance on technology as a critical element of business success, burgeoning complexity, and cost constraint has created a 'perfect storm' for using managed services, especially services covering devices and security. As a result, managed services has become an increasingly important force within the SMB IT portfolio because its key attributes tie directly to business and IT challenges. The reasons for this intense (and growing) interest in service delivery are varied and compelling. The top two issues are "to keep IT costs under control" (49%) and "improve security" (38%).
Let us look at this scenario within an SMB firm:
Joanne, the creative director, is frantic. Her team just received six PCs, which are needed for an overdue marketing site update – but there's been an issue with the configuration, and the team can't access the applications or the directories they need to launch the week's work.
JD, the head of engineering, also has a file access 'situation,' but this has nothing to do with the PC configuration. Instead, the disk drive stopped working, going from intermittent issues to dead. Operations had been looking for a budget for a service tech visit or a replacement, but both requests were tied up in finance. "Do we even have a maintenance contract on that – and if so, who is it with?" Fran wondered.
Meanwhile, Rick has a problem, and he and a senior leadership team member are looking for answers. Today is launch day for a new project, but there's a glitch: Rick's team can't connect with the project partners for the kick-off meeting. Jimmy, the ops manager, thinks that the problems might trace back to a cyberattack issue and warns that it might be some hours or days before the case is isolated and resolved.
Reading through four successive emails, Fran learned that Kyle, the 'fix-it' person for sales and marketing, needed a fix-it resource of his own. Somehow, Kyle had left his laptop somewhere. As a result, Kyle can't connect with customers without the device and has logged in requests for replacement and repair.
The names of each of these employees are fictitious. The scenarios, though, will be familiar to anyone who works in an SMB office environment.
What is the common thread in the scenarios above? The IT department has dedicated the staff to repetitive tasks. As a result, 80% of their time is consumed by tasks that aren't a source of differentiation – the repetitive functions, like set-up and configuration and support, that are entirely necessary but don't contribute to an edge in efficiency, market reach, or profitability. IT departments are so preoccupied with a mix of 'keep the lights on' and 'new but mandated' tasks that they have less than 10% of the time available for high-value, new initiatives. This doesn't stop senior executives from seeing IT as a source of innovation and expecting it to deliver a competitive advantage – but it does constrain Fran's ability to make good on these expectations.
Techaisle data shows that for 60% of SMBs, device downtime increases operational costs, and for 59% decreases employee productivity. At the same time, for 44% of SMBs, downtime decreases IT staff efficiency, and 34% experience reduced customer satisfaction.
As a result, Techaisle research shows that SMBs are making extensive use of managed services – IT services delivered by suppliers rather than internal staff – and that use of managed service suppliers correlates directly with IT sophistication. Techaisle's research divides SMBs and midmarket firms into three groups: basic IT or firms that are "focused on delivering core IT capabilities to internal users, but lack ability to expand into more sophisticated applications and technology categories;" advanced IT, businesses that have "progressed beyond core applications and are actively working with more sophisticated solutions;" and organizations with enterprise IT operations, in which "IT itself is run as a business, providing enterprise-grade support to all aspects of the organization. Roughly 60% of firms in the more sophisticated groups (Advanced and Enterprise) use managed services, compared with less than half that number for organizations with only "basic IT." And even those not already capitalizing on external services are moving in that direction: more than half of sophisticated IT user organizations currently using managed services plan to do so soon.
Dell APEX Managed Device Service is an essential step towards democratizing managed services regardless of the IT sophistication of SMBs and midmarket firms. Data demonstrates that the "most important features" list for managed services starts with seamless technical support. In addition, SMBs want a single supplier to handle diverse support requirements – hardware and software, proactive and break/fix responses. This is what Dell APEX Managed Device Service is offering.
Revisiting the above SMB scenario:
Because the PCs will have arrived fully configured and tested, Joanne can start on the new marketing website. Any delays will be due to 'creative differences' rather than application or directory incompatibilities.
JD's disk issues would have been identified by proactive maintenance monitoring weeks ago – before the device got to 'intermittent,' let alone 'dead'!
Kyle's laptop is covered by a same-day maintenance contract that includes a provision for retaining his hard drive after replacement.
The project was live well before Rick and his team arrived. The security software automatically monitors and prevents known and unknown viruses and drifts from the security setting baseline. Rick would have called in, and the suspected issue would have been resolved.
Dell APEX Managed Device Service includes: 1/ Device setup, 2/ Support, 3/ Management, 4/ Security, 5/ Reporting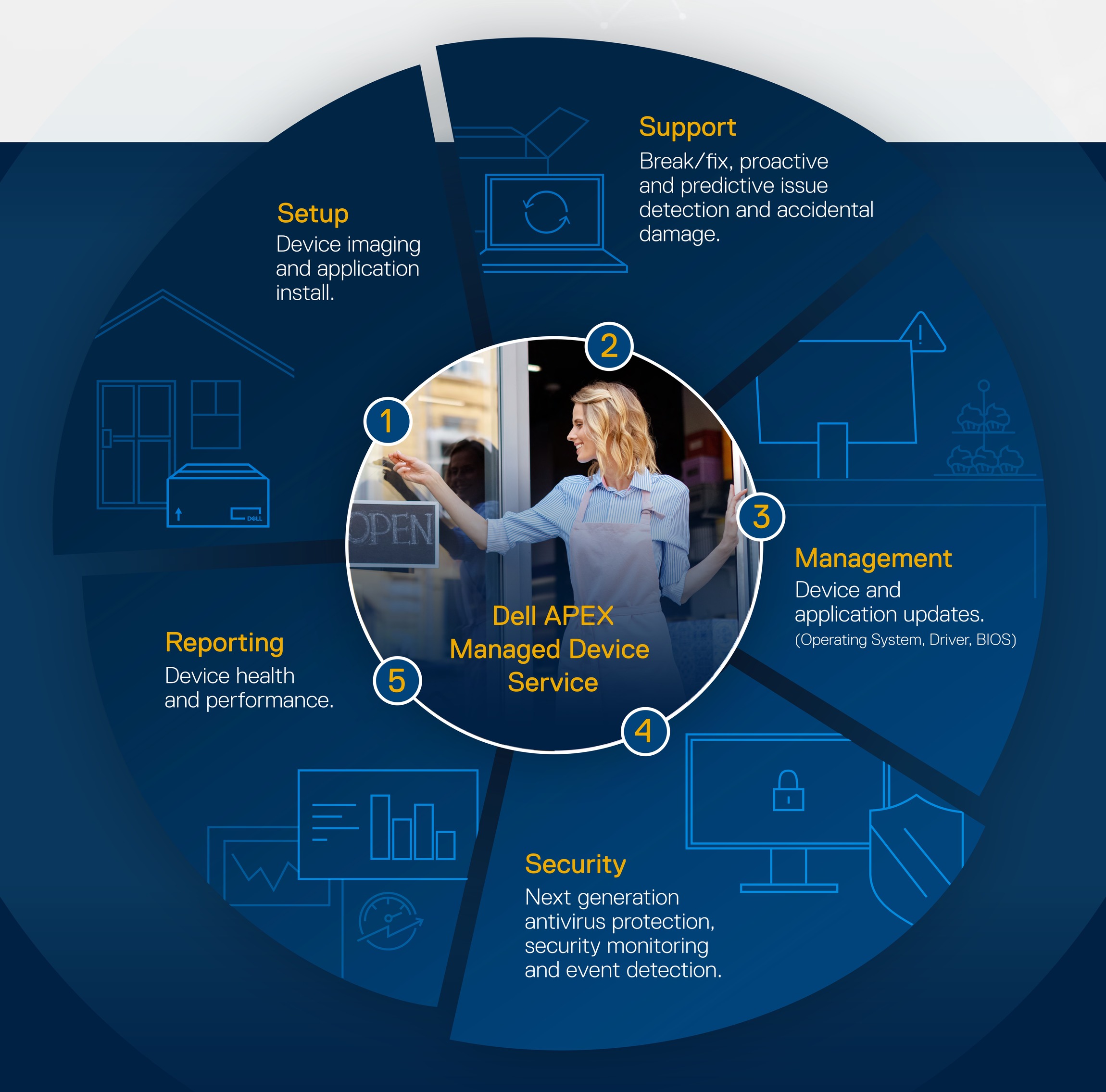 Final Techaisle Take
Techaisle data also shows that, if given a choice, SMBs would prefer to purchase services from PC OEMs. SMBs believe that PC OEMs have better knowledge of their systems and have vast amounts of data and relevant telemetry to quickly resolve issues, minimize workforce productivity interruptions, and lower operating costs due to reduced time spent on support resolution.
Dell APEX Managed Device Service is a contemporary, SMB-appropriate outsourcing offering that manages 'your mess for less.' It opens up many possibilities for SMBs, such as not having dedicated resources for set-up, patching, and maintenance, in addition to not keeping a specialized resource fully occupied, and others – particularly security – where a full-time headcount would be expensive and challenging to attract and retain. Managed services SMB users report that "provide better IT response time," deliver "predictable performance, user experience, and cost," and optimize availability and performance while minimizing downtime are important reasons to embrace managed services. Dell addresses these with its offering.