Spreadsheets and ledgers are essential tools for managing finances during the early stages of a business. However, as businesses grow and the number of customers and vendors they interact with increases, even basic tasks like tracking money coming in and going out can become tedious and time-consuming. Recording and analyzing financial data becomes more complex, requiring more than just sorting through spreadsheets and paperwork. This is where accounting software comes in handy. Instead of relying on manual processes, businesses can automate many tasks and streamline their operations.
One such cloud accounting platform is Zoho Books, which offers comprehensive features designed to simplify accounting processes and improve financial management. Zoho Books makes managing finances easy with intuitive invoicing, expense tracking, and bank reconciliation interfaces. It also automates tasks like creating recurring invoices, sending payment reminders, categorizing expenses, reducing errors, and ensuring timely transactions.
Since its launch in 2011, Zoho Books has become one of the top five products in the Zoho suite and has established itself as a significant player in the accounting software market.

Zoho Books' Competitive Edge
Zoho Books is known for its user-friendly design, featuring an intuitive interface that is accessible to both accounting professionals and business owners with limited financial knowledge. This allows users of all backgrounds and experience levels to manage their finances efficiently.
In addition to its user-friendly design, Zoho Books has a global focus, offering over 14 customized versions for different countries and an international edition. This enables businesses to effectively manage their financial operations while adapting to the unique characteristics of their local market.
Customization is another critical benefit of Zoho Books. Recognizing that every business has unique needs, the platform allows users to tailor their workflows, reports, and templates to fit their specific requirements. This enhances the user experience, improves efficiency, and streamlines business processes.
Zoho Books also offers value through its cost-effectiveness, with free plans for businesses with annual revenue of less than US$50,000 and six competitive pricing plans, making it an attractive solution for businesses of all sizes.
From Small Business Focus to Midmarket
Business accounting needs vary greatly, from simple bookkeeping for small businesses to complex multi-currency transactions for mid-sized companies. Zoho Books offers tailored solutions to meet these diverse needs. Zoho initially focused on serving small businesses and selling directly to them. This experience has helped the company develop software that is easy to use for everyday operations. However, while small and medium-sized businesses (SMBs) have been the foundation of Zoho's success, the company is now expanding its reach into the mid-market segment with new services and solutions.
Small businesses need efficient tools to manage their finances and ensure growth and success. These tools include simplified bookkeeping, streamlined invoicing, expense tracking, financial reporting, and collaborative access. They also need compelling tax compliance features to ensure adherence to regulations. Zoho Books meets these needs with features like bookkeeping, invoicing, expense management, and financial reporting, which provide a solid financial foundation and help small businesses follow basic accounting principles.
Zoho Books Dashboard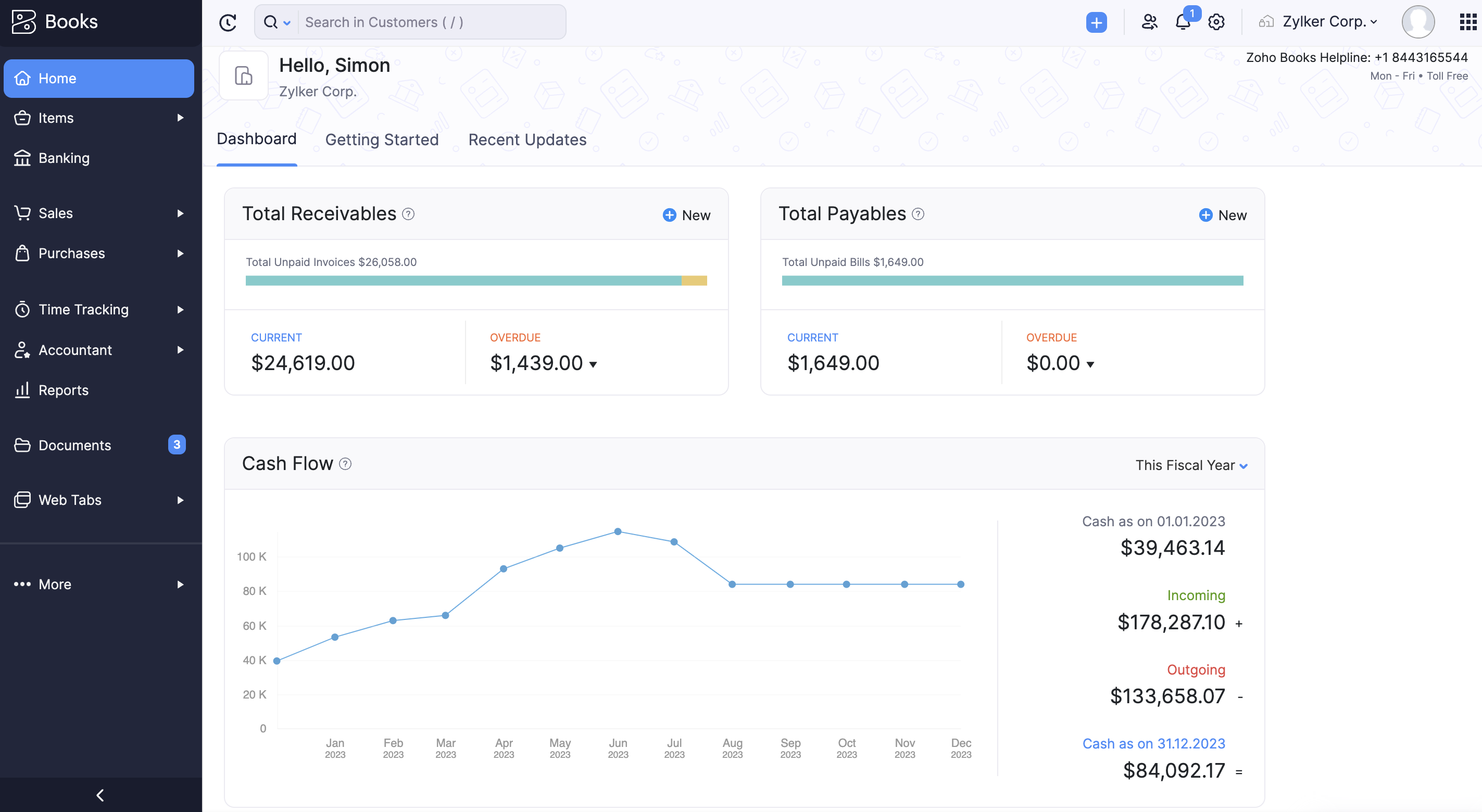 As businesses grow and expand, their accounting processes become more complex. Multi-currency transactions are often necessary, especially for businesses operating internationally. Zoho Books addresses this need with sophisticated features that support multiple currencies, conversion rates, and international financial regulations.
In addition, businesses must comply with complex tax regulations. Specialized tax guidance is essential due to the intricacies of domestic and foreign tax laws, including transfer pricing rules and tax treaties. To meet this need, Zoho Books offers solutions for managing complex tax calculations, simplifying tax planning, and ensuring compliance with different tax laws.
Zoho initially focused on serving the small business market, which made up over 80% of its customer base. However, the company has also focused on the mid-market segment in recent years. Two key factors drove this shift.
Firstly, Zoho recognized a significant opportunity in the mid-market segment, where businesses were underserved regarding affordable and user-friendly applications. To address this gap, Zoho developed a suite of applications tailored to the specific needs of mid-market businesses. Secondly, Zoho observed that a segment of its customer base was rapidly expanding. These customers had initially adopted Zoho's solutions when they were smaller but eventually outgrew their current solutions. These customers sought to retain flexibility while scaling up. This inspired Zoho to enhance its offerings for the mid-market, allowing smaller players to challenge larger ones.
Zoho's CEO, Sridhar Vembu, has emphasized that as a technology-focused company, Zoho has been able to better serve larger organizations by investing in related areas.
In line with this vision, Zoho is now putting more effort into serving the mid-market. The company is working to improve its services, enhance its products, and package them effectively for this market segment. Zoho is also gathering feedback from its current mid-market customers to strengthen its offerings, internal processes, and services.
The results of these efforts are evident in Zoho's impressive growth rate in the mid-market and enterprise segment, with a 65% year-over-year upmarket growth over three years. A third of Zoho's business now comes from the mid-market. Zoho has announced significant investments across its entire portfolio to support this progress. This includes the creation of an Enterprise Business Solutions (EBS) division, opening new offices worldwide, and introducing multi-currency payment options for billing and purchases.
Zoho Books also has a diverse network of partners, system integrators, accounting professionals, and consulting partners to provide expertise and support when needed. Furthermore, it includes an expanding network of payment gateways, banks, travel partners, and shopping carts. Partnerships with well-known system integrators like Deloitte, Infosys, Tata Consultancy Services, and PWC further demonstrate Zoho's commitment to developing specialized solutions and best practices for this market segment.
Addressing Basic and Advanced Accounting Needs for Small Businesses and Mid-Market Firms: How Zoho Books Exceeds Expectations
When handling financial operations, small businesses and mid-market firms have specific requirements that call for adopting specialized solutions. Zoho Books offers a versatile platform that addresses the distinct accounting requirements of these two categories of businesses.
Small businesses often need more resources and expertise when it comes to accounting. So, they need accounting solutions that are simple to use and cost-efficient. Small businesses' accounting needs include basic bookkeeping, invoicing, expense tracking, and financial reporting. Zoho Books offers an intuitive interface that simplifies these financial tasks for small businesses. Its user-friendly invoicing and expense tracking features allow small business owners to handle cash flow and maintain accurate financial records efficiently. Moreover, by integrating with various banks, Zoho Books help small businesses to automate the reconciliation of their accounts and track their financials more efficiently. It also offers several online payment gateways so customers can easily make payments.
Zoho Books Invoice Detail View
Moreover, financial reporting is crucial for small businesses to assess their financial health. Although they might not need complex reports, such businesses may be able to make improved strategic decisions to support their ongoing growth if they have a better understanding of their financial data. These reports can be created with Zoho Books' simple yet comprehensive reporting tools, allowing small business owners to make well-informed decisions.
Zoho Books Reports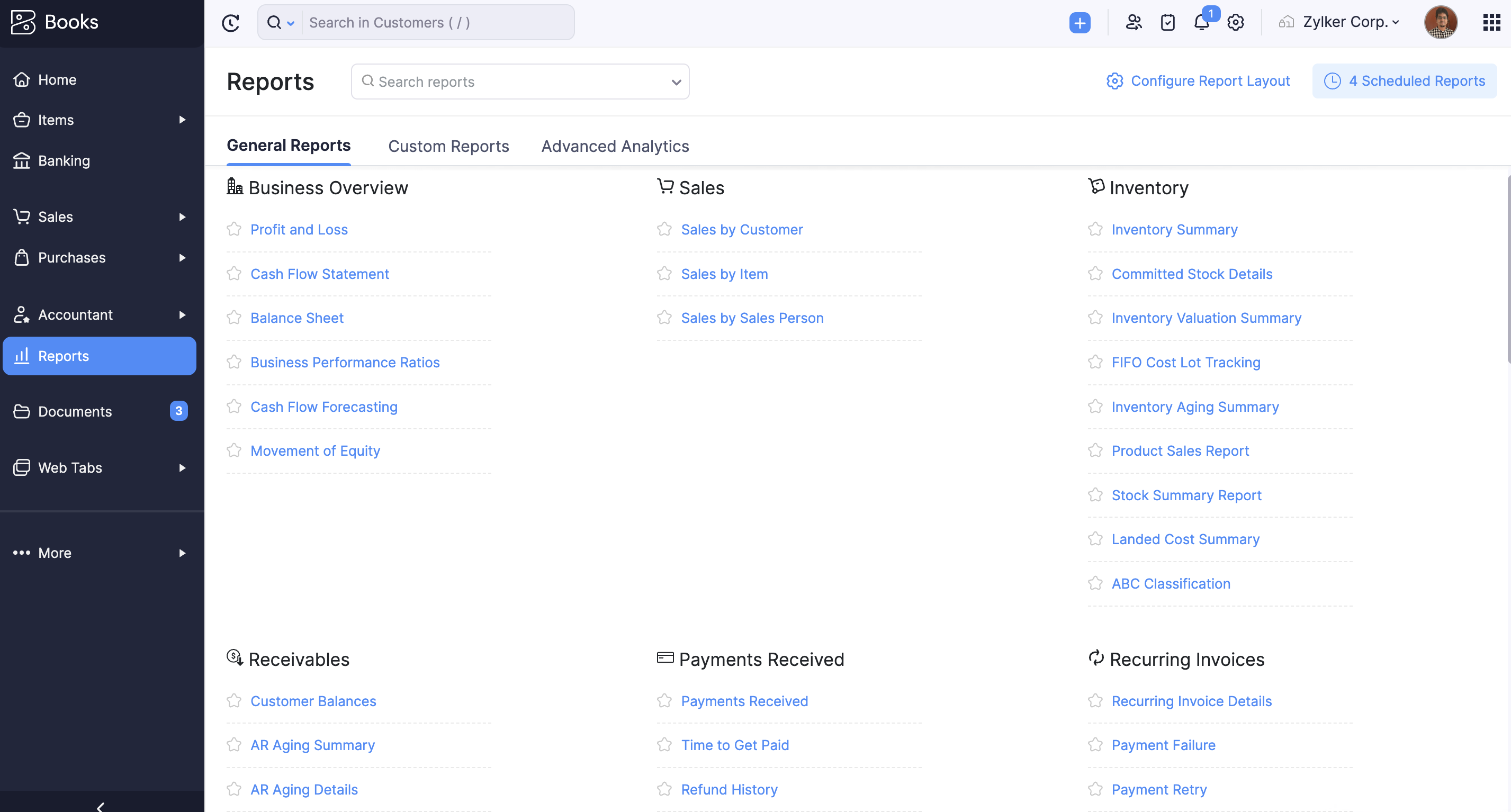 However, as businesses expand and enter the mid-market segment, their accounting needs become more intricate due to increased complexity in operations and transactions. This complexity further increases due to the need to track and handle transactions in multiple currencies, particularly for companies with international operations. Zoho Books addresses this need by offering advanced multi-currency support that allows businesses to conduct transactions in the global marketplace. It automatically fetches the exchange rates for the given foreign currency when transactions are created.
The increasing number of transactions also results in mid-market firms needing an accounting solution to scale up or down as per their business requirements. Zoho Books is designed to scale alongside businesses, accommodating increased transaction volumes, expanded teams, and additional financial needs accompanying business growth. Additionally, the software's cloud-based nature ensures it can accommodate increased data without compromising performance as a business grows.
The volume of financial data grows as mid-sized businesses expand, making it difficult to create reliable financial reports. By leveraging the advanced reporting capabilities offered by Zoho Books, however, businesses can generate consolidated financial statements to understand better their financial performance and spot trends, discrepancies, and opportunities even if they have numerous business units or subsidiaries. Moreover, Zoho Books extends its reporting capabilities to include customizable dashboards and more intricate financial insights useful for the mid-market.
Zoho Books Chart of Accounts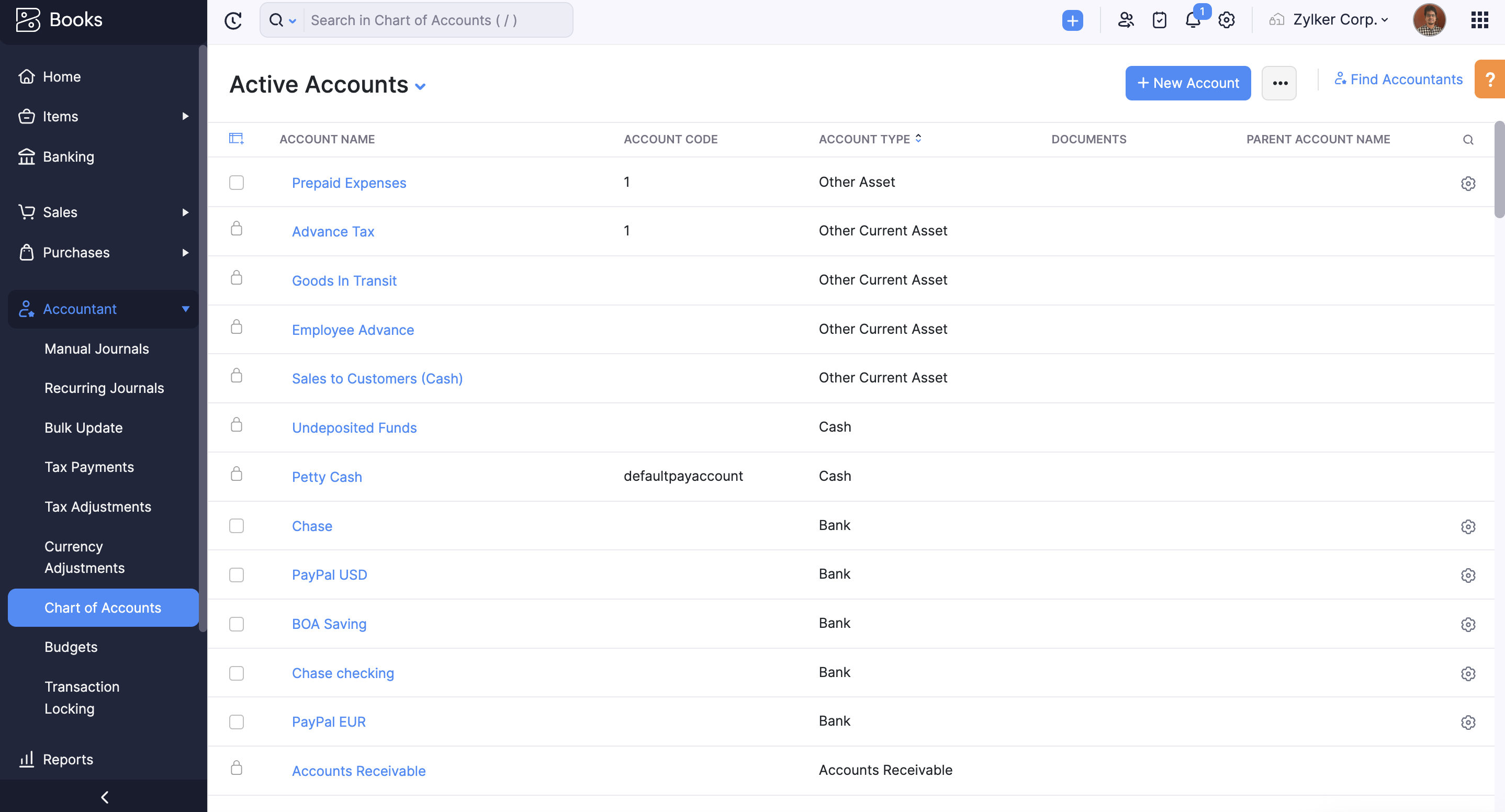 Zoho Books' Platform Approach
Zoho Books is a cloud-based accounting software that can easily integrate with other cloud-based applications to streamline processes and improve efficiency. Businesses can integrate Zoho Books with other Zoho products, such as Zoho CRM, Zoho Inventory, and Zoho Projects, to create a unified operational framework. This makes it easier for different departments to share financial data, promoting collaboration and synergy within the business. The seamless data flow between departments also enhances efficiency, reduces manual data entry, and minimizes the risk of errors.
This integration increases productivity and provides businesses with real-time insights into various aspects of their operations. The connected ecosystem offers a comprehensive view of operations, enabling informed decision-making regarding managing client relationships, monitoring inventory, and tracking project progress.
As businesses grow and expand their operations, they often adopt multiple applications to address specific needs. However, this can result in a collection of disconnected applications that don't communicate with each other. To address this challenge, Zoho Books has evolved from a simple cloud accounting software into a financial platform over the past decade. It serves as a hub for a vast network of interconnected Zoho applications within its ecosystem, each addressing a different aspect of business operations. Zoho's ecosystem includes solutions for accounting, inventory management, billing and subscription management, payroll management, and more. These applications share the same database, allowing for easy data exchange, seamless data flow, and system unification.
Final Techaisle Take
Zoho has come a long way since its inception, evolving from Zoho Invoice into Zoho Books and eventually into a suite of products that cater to a wide range of business needs. This transformation into a comprehensive financial platform showcases Zoho's adaptability and commitment to innovation, solidifying its position as a provider of flexible and all-encompassing solutions for modern businesses. Furthermore, the exit of QuickBooks from markets such as India and Mexico has allowed Zoho Books to strengthen its market position.
Zoho's journey and impressive growth demonstrate the importance of making strategic and calculated moves in the accounting software industry. However, given the competitive landscape, Zoho must remain vigilant to ensure its continued success, as many competitors closely monitor its progress. To stay ahead of the competition, Zoho must continue to innovate and adapt to changing market conditions.
Small businesses and mid-market firms have different accounting requirements, and Zoho Books offers a versatile platform to meet both needs.
Zoho Books provides a simple, user-friendly interface for small businesses, making it easy to manage basic accounting tasks such as bookkeeping, invoicing, and expense tracking. The software also integrates with various banks to automate account reconciliation and make it easier to track financials. Zoho Books also offers a variety of payment methods, including online payment gateways, to make it easy for customers to pay their bills.
In addition to these basic features, Zoho Books provides various advanced features for mid-market firms. These features include:
Advanced multi-currency support for businesses that operate in multiple countries.
Scalability to accommodate the increasing number of transactions and users as a business grows.
Advanced reporting capabilities to generate consolidated financial statements and identify trends, discrepancies, and opportunities.
Tax management solutions to help businesses comply with complex tax regulations.
Overall, Zoho Books is a versatile platform that can meet the accounting needs of businesses of all sizes. Whether you are a small business just starting or a mid-market firm with complex accounting requirements, Zoho Books can help you streamline your financial operations and make better business decisions.