Digital Enhanced Cordless Telecommunications (DECT) technology is a prime example of innovation and practicality in an era characterized by swift technological advancements. With its origins dating back to the latter half of the 20th century, DECT technology has evolved into a sophisticated communications network that redefines cordless phone communication standards. Mitel, a leading communication solutions provider, has been at the forefront of this evolution, offering DECT features such as over-the-air synchronization, enhanced signal strength, advanced security protocols, voice encryption, and reliable connectivity. The company's commitment to innovation is further underscored by the impending launch of its 700d Series phones.
In addition to its DECT offerings, Mitel also provides the MiCollab app—a comprehensive communication solution designed to enhance collaboration. Among its many advanced features is Meetings—a multi-party video conferencing solution. The app's most recent update (MiCollab 9.7 SP1) introduces several new features we will examine in detail.
Mitel: A Significant Player in the DECT Market
The global multicellular DECT market is fiercely competitive, with many companies competing for a share of the market. In 2022, Atos Utility and Alcatel-Lucent Enterprise held 18% and 15% of the market share, respectively. Companies such as Ascom Wireless, Yealink, Snom, and Avaya each had less than 10% of the market. Mitel stood out as the market leader, holding approximately one-fifth of the market share by consistently providing modern, comprehensive, and reliable solutions.
As the DECT market continues to evolve, competitors are focusing on differentiating their products by introducing solutions specific to various industries, improving audio quality, and adding mobile features to meet the diverse needs of their clients. Organizations are looking for solutions tailored to their unique requirements, and DECT players are responding by delivering innovative communication solutions that meet and exceed expectations and enhance connectivity.
The popularity of Mitel's DECT Portfolio
Mitel recognizes that the primary purpose of any phone is to enable clear communication. The company's DECT portfolio is well-known for its outstanding speech quality, which ensures interactions free of distortion. Its solutions are both scalable and adaptable, meeting the needs of small businesses and large corporations alike. Organizations can effortlessly add or remove DECT phones from their communication infrastructure, allowing them to choose the best solution for their needs.
Another critical feature of Mitel's DECT phones is their ability to integrate seamlessly with other communication tools and technologies, such as VoIP systems and unified communications platforms. Mitel strongly emphasizes data security and privacy, using advanced encryption techniques to protect against eavesdropping.
Mitel understands that the communication needs of different industries vary and offers DECT phone solutions tailored to the healthcare, hospitality, and manufacturing sectors. With its global presence, the company has gained an understanding of the diverse communication needs of enterprises worldwide, and its DECT phone range reflects this understanding by providing solutions that meet the specific needs of businesses in different locations.
Mitel's dedication to its clients goes beyond just selling DECT phones. The company offers comprehensive support, including assistance with installation, maintenance, and upgrades, to ensure uninterrupted service and customer satisfaction. Mitel's prominence in the DECT phone market reflects its unwavering commitment to innovation, as demonstrated by the recent launch of its 700d DECT handsets.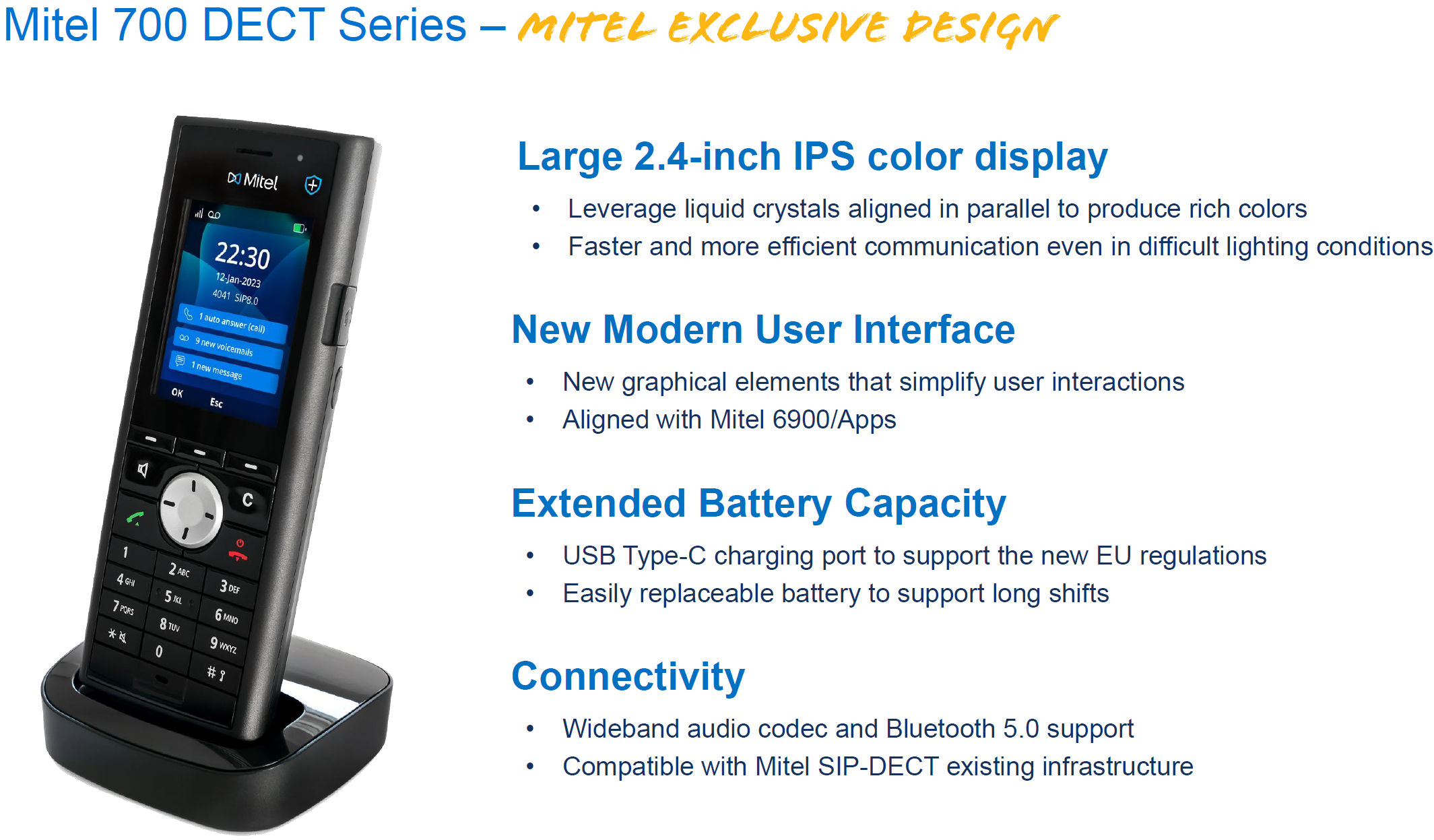 Launch of the 700d DECT Handsets
Mitel has a long history of pushing the limits of communication technology. The company started this journey in 1971 by introducing advanced printed circuit boards for telephone switches. In 2021, Mitel continued to focus on innovation by adding antimicrobial protection to its IP phones to improve hygiene. The redesigned handset reduces the number of crevices and holes where germs, dirt, and grime can accumulate, providing a cleaner work environment. This innovative spirit is deeply embedded in the company's DECT phone solutions and is visible in its new 700d phones.
The new handsets have a 2.4-inch IPS color display, designed to enhance communication efficiency even in low-light conditions. They also feature a more user-friendly interface that improves interactions through the use of graphic elements that simplify device usage. The integration of a wideband audio codec and Bluetooth 5.0, compatible with the existing Mitel SIP-DECT infrastructure, further enhances the capabilities of the phones.
At first glance, these changes may appear to be minor updates. However, compared to the older generation 600d models, the extent of innovation becomes apparent. While the 622dt business phone had a 2-inch screen, the new model has a 2.4-inch screen - a 20% increase in size. The battery capacity has also increased from 800mAh to 920mAh. The IP protection rating, which indicates a device's ability to resist solids or liquids, has notably increased from IP40 to IP44. These improvements make the phones more durable and suitable for use in fast-paced, dynamic environments, effectively meeting the needs of Mitel's key verticals - the healthcare, hospitality, and industrial markets.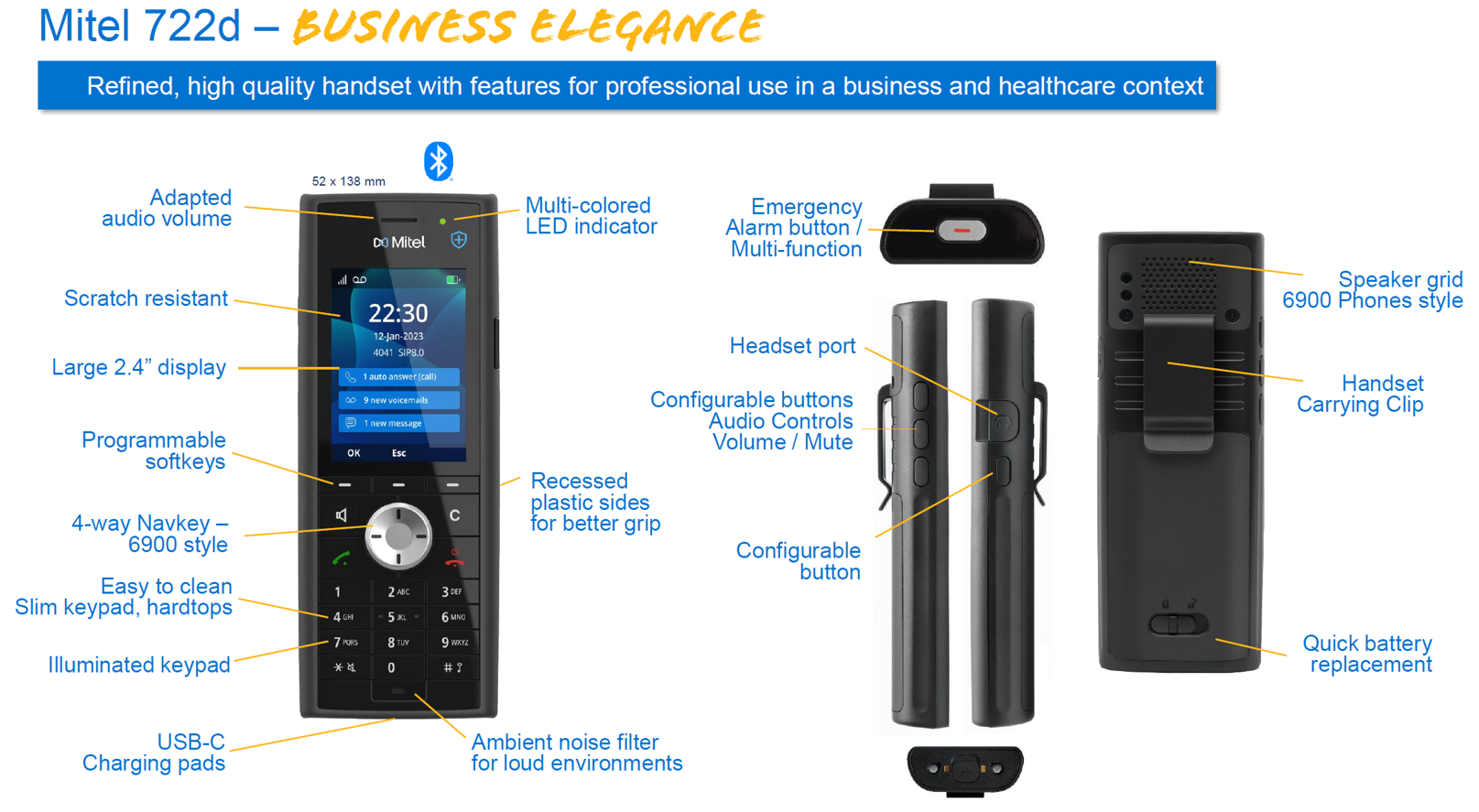 MiCollab 9.7 SP1: Key Updates
In July 2023, Mitel unveiled the latest enhancements to its MiCollab app, introducing version 9.7 SP1, which comes with a host of new and improved features. One of the most notable advantages of these updates is the improved accessibility for visually impaired users. The MiCollab app, which is used by web, PC, and Mac clients, now includes a screen reader that can vocalize a variety of navigational and landmark options within the app. To further enhance accessibility, alerts, and notification announcements have been added. Moreover, keyboard navigation is now available for PC clients in telephony and non-telephony-only modes, and users can easily analyze call quality statistics for softphone audio calls.
Another significant addition is the capability to launch third-party meeting applications like Zoom and Microsoft Teams directly from the MiCollab navigation pane. This feature is accessible across MiCollab Desktop, Web, and Mobile applications, enabling users to easily view meeting lists within the MiCollab client and join meetings directly through MiCollab Client integration. The company has also introduced several minor additions, including alerts that remind users to update their emergency network connection (Emergency Location) addresses.
MiCollab is aiding customers in transforming their workflows by enabling remote collaboration through high-quality audio and video communication. This greatly reduces the necessity for travel and in-person meetings, leading to cost savings. The app also facilitates prompt decision-making, reduces the effort required for interactions, speeds up project progress, and offers the flexibility of joining meetings from various devices.
Final Techaisle Take
DECT phones are an essential communication strategy tool because they offer several advantages over traditional wired phones, including portability, range, security, reliability, and cost-effectiveness. These advantages can be leveraged to improve productivity, collaboration, and customer service, save lives in healthcare settings, and reduce costs. DECT phones are a valuable tool for businesses of all sizes and can be used in various ways to improve a communications strategy. For example, sales teams can use DECT phones to make and receive calls while out in the field, customer service teams can use them to answer calls from customers no matter where they are in the office, and doctor's offices can use them to allow doctors and nurses to make and receive calls from patients without being tethered to their desks.
Mitel's unwavering commitment to innovation in the communication domain is exemplified by the recent launch of its 700d DECT phones and the comprehensive updates to its MiCollab application. The company's revamped DECT portfolio is poised for deployment across various sectors, including healthcare, hospitality, and public administration. Mitel has also updated its MiCollab software to enhance accessibility for people with disabilities.
The company's impressive track record suggests it has discovered the key to success. Mitel understands that an organization's success hinges on its ability to solve problems through its products, incorporate customer feedback, and create innovative solutions for multiple industries. This approach has solidified Mitel's position as a leader in its domain, enabling it to continue excelling.